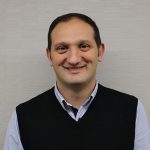 Asst. Prof. Dr Mehmed Buğrahan Bayram
Acıbadem Mehmet Ali Aydınlar University
Faculty of Engineering, Department of Medical Engineering
Artificial Intelligence Applications in Healthcare: Expectations
About the Seminar:
Artificial intelligence and its applications started to directly affect our daily lives in the field of healthcare as in all other fields. There is a huge expectation of artificial intelligence and a very basic need in its focus. Physicians listen to their intuition while making decisions, relying on medical examinations and tests. Most clinical decision support systems have been attempted to "mimic" the reasoning algorithm used by clinicians in decision-making processes.
Compared to a person,
Can a computer system be more successful in Experience / Understanding?
Can a computer system be more successful in Wisdom?
The answers to these questions affect the sociology and psychology as well as the technology. In fact, the extent to which all artificial intelligence applications will come into our lives in the future is directly linked to these two questions. A short answer these might be, "Artificial intelligence will enter our lives as much as we allow." Is it up to us (the end users) to decide? Answers may differ and will not make everyone happy. We should consider the Privacy, Accessibility, Security and Efficiency Guarantee as to how efficient and effective the use of these technologies will be in the future.
 About the Speaker:
 Buğrahan Bayram graduated from Bahçeşehir University Computer Engineering Department in 2005 and then completed his master's degree (Kent State University, 2007), doctorate (Cleveland State University, 2013) and post-doctorate (Rutgers University, 2014) in the USA. During his doctorate education, he worked as a full-time researcher at Cleveland Clinic. Repatriation BİDEB TUBITAK 2232 Research Scholarship since 2015 and returned to Turkey Mehmet Ali Aydınlar Acıbadem University has been working as a Lecturer at the Faculty of Engineering. Her research interests include in addition to Artificial Intelligence, electroneurophysiological signal processing, neurorehabilitation and biomechanics (gait analysis). He is the co-founder and executive of Acıbadem University Data Analytical Laboratory (ADALAB), which develops artificial intelligence applications in healthcare.