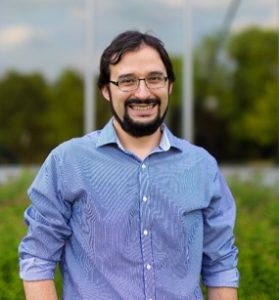 Ömer AYDIN
Ph.D.
Erciyes Üniversitesi
Ultrasound-based Therapies in Cancer w/o Nanomedicine Tools
About the Seminar:
My research focuses on i) development of novel therapeutic approaches for focal ablation of primary prostate cancer; ii) characterization of immunomodulation effect of pFUS in murine melanoma and breast cancer models with immunotherapy perspective; and iii) designing of ultrasound-active smart particles for gene delivery. The success of focal prostate cancer therapy depends on the ability to selectively ablate cancer lesions, which is the objective of my research. Under this section I will discuss the engineered perfluorocarbon loaded-nanodroplets (NDs) that rapidly expand when exposed to therapeutic ultrasound before they collapse, which proved to mechanically fractionate neighboring cells with high precision in 3D cancer model.
In the second part of the presentation I will briefly mention about my recent research related to immunotherapy enhancement via pFUS. Immunotherapy is a promising therapeutic modality. One obstacle to successful therapy is the immune suppressive character of the tumor microenvironment which limits treatment efficiency. Recent studies highlight a potential role for non-thermal pulsed focused ultrasound (pFUS) to initiate immune responses against tumors. Under this section I will discuss the results of sonicated breast or melanoma flank tumors in mice at different peak negative pressures (PNP) and show the tumor microenvironmental alterations with IHC and protein/cytokine analysis and changes in immune cell populations of the spleen, lymphoid tissues, and tumors with IHC, H&E staining and FACS methods.
About the Speaker:
Omer Aydin is currently a Junior Faculty at Erciyes University in the Department of Biomedical Engineering. He was a visitor researcher at Bogazici University in 2017. He was a post-doctoral fellow in the Radiology and Imaging Sciences at the National Institute of Health (NIH, USA) (2016-2018). He received his B.S. from the Department of Biomedical Engineering, Baskent University (2007), M.Sc. from Yeditepe University (2009),  and a Ph.D. from Biomedical Engineering, University of Michigan (2016). His research focuses on development of Surface-enhanced Raman Spectroscopy, soft-lithography for SERS-based biosensors applications. Furthermore, he has worked on the development of drug delivery systems such as novel "smart" particles that can effectively target bone metastases, and designed perfluorocarbon-loaded nanodroplets for ultrasound mediated cellular ablation. Further he is interested to engineer gene/drug loaded particle delivery to manipluate B and T cells by monitoring imaging systems such as ultrasound.